Every festival in India has its own importance. The festival of Rakshabandhan is a festival of emotions and sensations. In this festival, siblings have many hopes related to each other. It is a Hindu festival and the celebration day of Rakshabandhan is the full moon day of Saavan month of every year. Rakhi is of paramount importance in Raksha Bandhan.
Everyone can celebrate Rakshabandhan with any type of thread from raw threads to colored threads, silk threads and gold-silver threads. Rakshabandhan is the famous and sacred festival of brother-sister relationship, Rakshabandhan means – "Raksha means protection and Bandhan means bound". On the day of Rakshabandhan, Sisters prays to God for the progress of their brothers.
Many gifts start selling in the market before Rakshabandhan. You can see a lot of crowd to buy gifts and new clothes on this day. The guests keep coming to the house. On the day of Rakshabandhan, sisters tie rakhi to their brothers, in return the brothers give them gifts and pledge to protect them. Rakshabandhan is a festival that reinforces the love of siblings.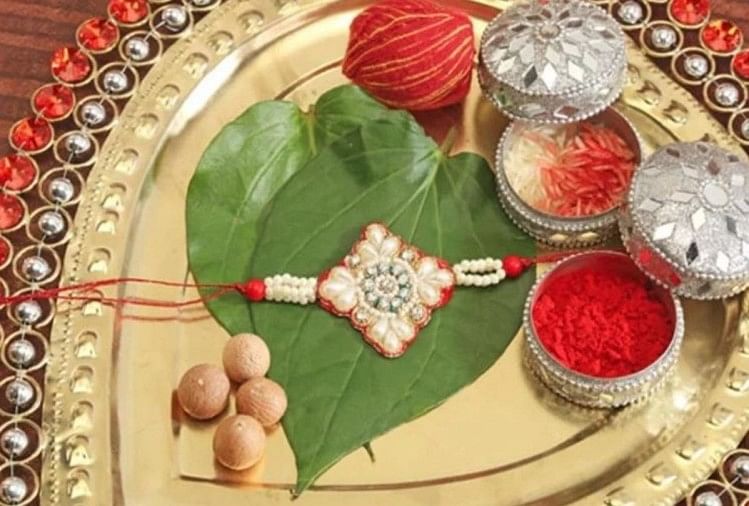 MYTHOLOGY:-
Shree Krishna's index finger got hurt when he use Sudarshan Chakara to kill Shishupala then Draupadi tore her sari at that time and tied the bandage on her finger. It was the full moon day of Saavan month. Krishna revenge this benevolence, and later paid for her sari by raising it. According to Hindus this festival of Raksha Bandhan started from this context.
METHOD:-
On this day the sisters observe the fast till they tie a rakhi to their brothers. Some brothers also observe this fast. After bathing early in the morning, girls and women decorate the plate of worship. The plate also consists of rakhi, rice, lamp, and sweets. Boys and men get ready and sit in worship or any appropriate place to get the tilak done.
First the girls worship, for their brothers followed by tilak from Roli, the rice are applied on the tilak and sprinkled on the head, the aarti is offered, a rakhi is tied on the right wrist, followed by a gift to the siblings or gives money. In this way, food is served only after completing the method of Rakshabandhan.
DATE:-
In 2020, Rakshabandhan will be celebrate on 03 August, 2020.
Here you can read about festivals from any other blog.
So this site is considered as a Hindu Site. Because here you can read about all hindu culture.
Click Here to read about other festivals.
Click Here to read our other blogs.
Please follow and like us: